Lets meet Mili – our new Recruitment Officer here at Cairns Hockey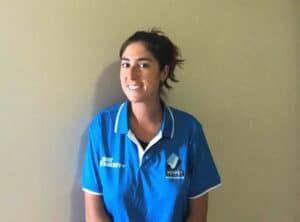 I'm pleased to announce that I'm the new Recruitment Officer for the upcoming 2019/2020 season at Cairns Hockey Association.
Part of my responsibilities are organizing, developing and delivering activities and hockey programs for schools and clubs to promote, encourage and grow hockey interest and participation around the region. I'll also be working closely with the new GM – Operations Kym McPhee Smith  to deliver a social, fun, safe and family friendly Friday junior program for all the clubs and schools who participate on it.
Last season I played for Brothers Hockey Club and worked for CHA as a hockey assistant. I have been coaching Junior and Senior teams and goalkeepers in Melbourne and Argntina for the last 12 years. In Argentina I also worked as a Physical Education substitute teacher where I gained confidence and new skills by working with kids at school level. That job gave me the experience to help with the TEM Hockey Club school development program during the 2017/2018 hockey season in Melbourne. TEM has been working hard to promote the sport efficiently with different programs and holiday activities during the on and off hockey season. They have achieved really positive and progressive results over the years, and I hope to implement some of their successful initiatives here in Cairns.
For the last 20 years hockey has taught me the importance of teamwork to achieve any goal. I can't wait to work with you all so that we can make this sport valuable around the region in the most effective, fun and positive way possible. Let's work all together to grow our Cairns Hockey Family! You can find me at: mili.arrotea@cairnshockey.com.au any time.
See you around 😊
What's on at Cairns Hockey
<<
May 2020
>>
M
T
W
T
F
S
S
27
28
29
30
1
2
3
4
5
6
7
8
9
10
11
12
13
14
15
16
17
18
19
20
21
22
23
24
25
26
27
28
29
30
31
No Events
Hockey Links
Cairns Hockey Partners And Supporters